Prepare for a life of significance
Master of Science in Nursing
The Master of Science in Nursing (MSN) program at Ottawa University is designed to help registered nurses gain the leadership strategies, critical-thinking skills and professional qualifications to take the next step in their careers – whether that's in nursing education or a management position. There is a tremendous need for qualified leaders in the nursing profession. This MSN program, with core coursework on topics ranging from advanced health assessment to exploring cultural diversity, will put students on the right track to fill those roles.
Students choose from two specializations – Nurse Educator or Nurse Leadership – for an education customized to their long-term goals.
Graduates with the Nurse Educator specialization will be eligible to take the Nurse Educator Certification Exam from the National League for Nursing (NLN). Those graduating with the Nurse Leadership specialization will be prepared to sit for the Nurse Executive Certification Exam of the American Organization of Nursing Executive (AONE) as well as the American Nurses Credentialing Center (ANCC) Nurse Executive and Nurse Executive Advanced Certification Exam.
Contact Ottawa University today to learn more about our Master of Science in Nursing program!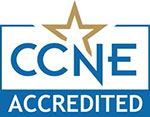 The master's degree program in nursing at Ottawa University is accredited by the Commission on Collegiate Nursing Education, 655 K Street, NW, Suite 750, Washington, DC 20001,202-887-6791. CCNE is the leading accrediting agency for baccalaureate and graduate degree nursing programs in the United States. The accreditation action was effective as of March 18, 2019 to December 31, 2024.