Prepare for a life of significance
Nursing: RN to BSN
The RN-to-BSN Online Nursing Program is designed for a registered nurse (RN) who has graduated from an accredited associate degree or diploma nursing program, as well as for a student who has been accepted and is currently enrolled in an Associate of Applied Science in Nursing degree program at a partner school who wishes to complete a Bachelor of Science in Nursing (BSN) degree. Many registered nurses who have graduated from Associate Degree in Nursing (ADN) or diploma programs are returning back to school to earn their Bachelor of Science in Nursing (BSN) degree in order to fulfill their personal and/or career goals, as well as to likely increase their overall earning potential.
Courses in the BSN program cover topics related to health care policy and ethical practice and are designed to empower students with the ability to address new challenges in the ever-changing health care industry. Students who complete this program can further their professional career in nursing working in roles that may include nursing management, case management, risk management, occupational/public health or as a staff nurse in other specialty areas.
Contact Ottawa University today to learn more about our Nursing: RN to BSN Online Nursing program.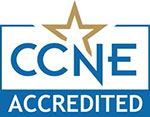 The baccalaureate degree program in nursing at Ottawa University is accredited by the Commission on Collegiate Nursing Education, 655 K Street, NW, Suite 750, Washington, DC 20001,202-887-6791. CCNE is the leading accrediting agency for baccalaureate and graduate degree nursing programs in the United States.